The Garden of Tomorrow construction is underway with LIMITED PARKING. NBG Members and Not-Yet-Members are required to reserve/purchase a Timed-Entry-Ticket. Members – a reservation is needed, but your ticket is always free. This will ensure a parking space and help us with traffic flow especially during high visitation days. Need assistance with reserving a ticket, please call our Visitor Services Team at 757-441-5830 ext. 0
If you have further questions about The Garden of Tomorrow construction, contact Cathy Fitzgerald, Chief Operating Officer at cathy.fitzgerald@nbgs.org or (757) 441-5830 ext. 319
Wheelchairs are available to rent for free on a first come, first served basis at our Front Desk in our Baker Hall Visitor Center. We hold on to an ID while you have the wheelchair checked out.
Learn more about Rotating Food Trucks in the Garden. Garden Café is closed indefinitely.
Picnicking is welcomed and encouraged.
Vending machines are available in the Children's Garden and near the Butterfly House bathrooms.
Water fountains are available throughout out the Garden and some have touchless water bottle refill feature.
Our Garden Gift Shop is open daily from 11AM-8PM.
 Environmental Impact & More
Learn more about our Environmental Actions
Keep up with how much energy and cost the Garden is saving on Baker Hall Visitor Center Solar Panels. Click here.
Seasonal Tram Tours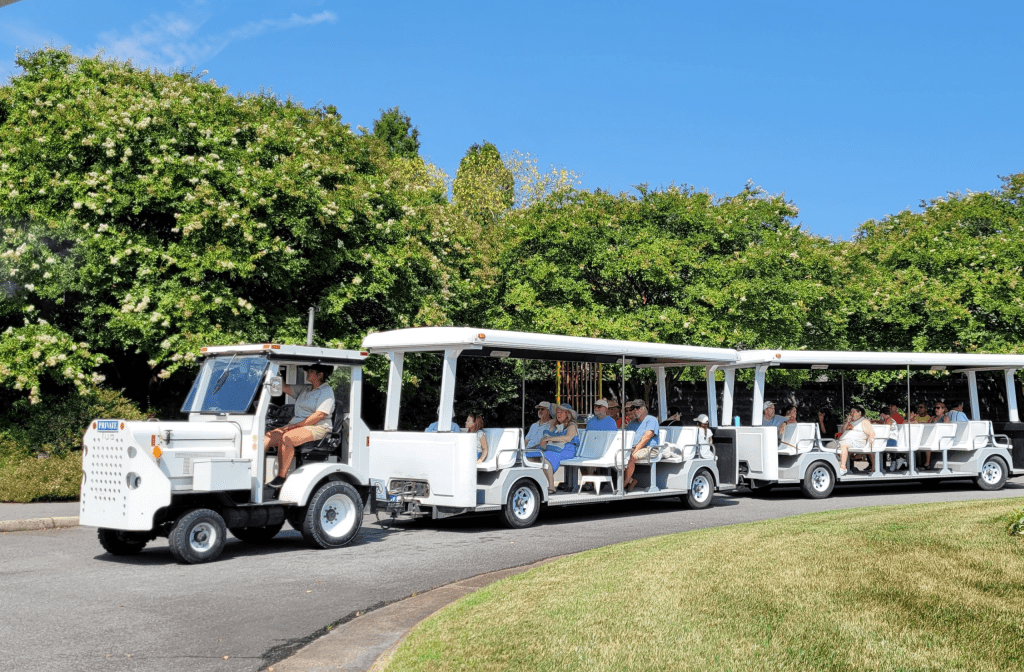 Trams tours have ended for the season.
Seasonal Boat Tours
Boat tours have ended for the season.
See monthly overview of garden blooms
BECOME A MEMBER FOR EXCLUSIVE BENEFITS
try out some of our classes
Frequently Asked Questions:
Directions
We are located at:
6700 Azalea Garden Road
Norfolk, Virginia 23518-5337
Get Directions »
Next to Norfolk International Airport. Minutes from Downtown Norfolk and Virginia Beach.