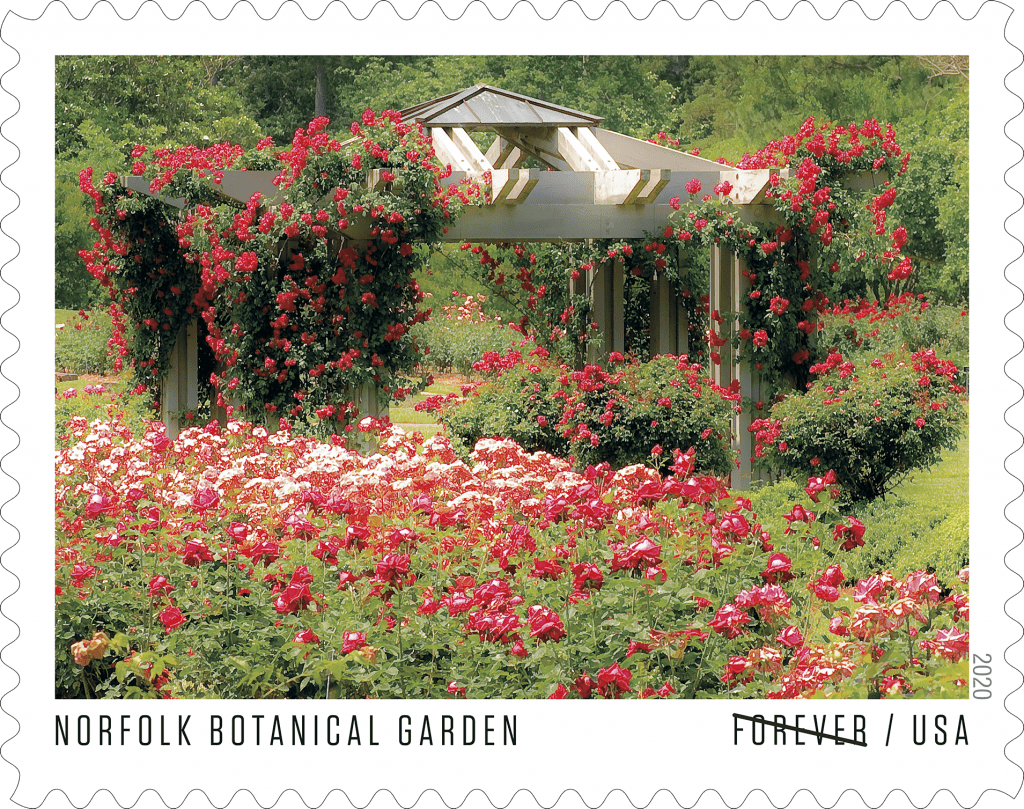 Norfolk Botanical Garden featured on U.S. Postage Stamp!
Norfolk Botanical Garden (NBG) is featured on a United States Postage Forever stamp! The upcoming "American Gardens" series is available for purchase. American Gardens capture the essence and the beauty of nature. The stamp is a photograph of the Garden's Bicentennial Rose Garden, one of the largest rose gardens on the east coast. This beloved garden peaks in early May just in time for Mother's Day and continues blooming throughout the summer and fall.
Celebrating American gardens, NBG is amongst 10 nationwide gardens photographed by Allen Rokach between 1996 and 2014. Gardening dates back to the earliest years of our country. Whether you are gardening for food, environmental sustainability, or for the beautiful ascetics of blooming flowers, gardening in a variety of different ways connects us all to nature.
"If you think it's easy getting on a US Postage stamp, just ask someone who's on one! I'm kidding, of course," said Michael Desplaines, NBG President & CEO.
"The honor of being on a United States Postage Stamp is reserved for distinguished Americans who have left us or for notable American Institutions, " he said,
"Today I'm proud that Norfolk Botanical Garden is being recognized as one of those notable American institutions. We're so pleased to be a part of this historic moment when Gardens around the nation are being honored in such a prestigious way.  "Thank you USPS and thank you America for your love affair with  Gardens."
Now more than ever gardens are needed as a therapeutic refuge and necessity for food production. The timing is perfect to remind communities to connect with the outdoors.
Share your love of gardens, especially Norfolk Botanical Garden – purchase the American Gardens Forever stamps, featuring Norfolk Botanical Garden stamps, at the USPS Postal Store.
Announcing NBG Bicentennial Rose Garden new US Postage Forever Stamp
Purchasing new stamp from our local post office and saying "Thank You"
"American Gardens" Virtual Stamp Release Celebration